"Rod Steward"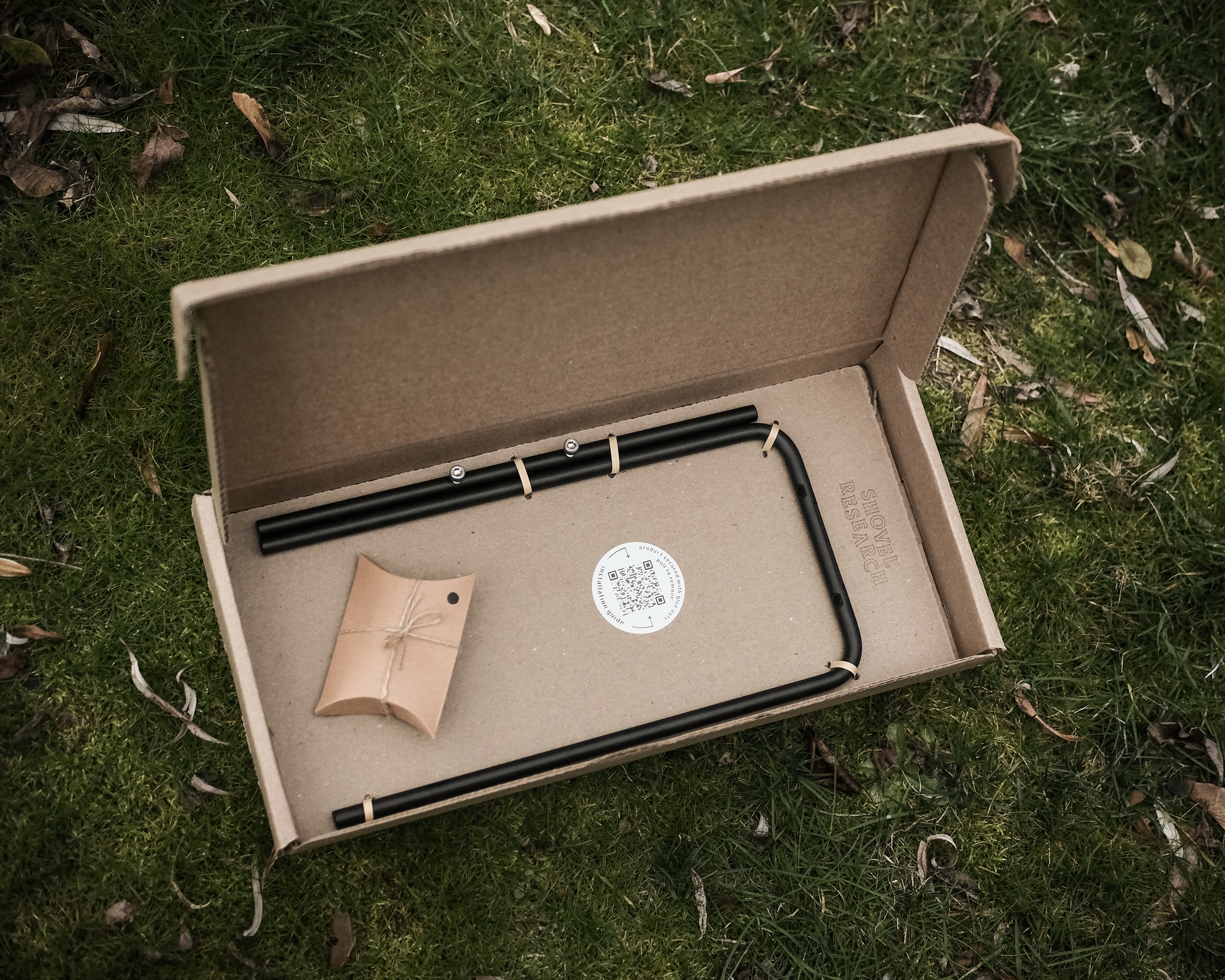 The "rod steward" is a bag support designed around the Ron's Bikes fab's chest. The 11" crossbar fits a small chest and the 14" crossbar fits a large. These are made by me in Portland, Oregon from 6061-T6 aluminum (3/8" rod), and weigh approximately 220g including all hardware.
You'll receive a cnc machined and engraved bent rod, a crossbar, two mounting clips, and all the hardware you need to attach them to your bike and bag. Read on to determine if your bike is compatible.
Shipping is $12 within CONUS.
Please make sure you choose the correct shipping rate at checkout
Please read everything
below before purchase.
Tools
You will need at least a 4mm hex wrench and 8mm open-end wrench to complete installation, but you may also want a way to trim the 3/8" rod to suit your bicycle once you've determined the optimal height. A hacksaw and a file will do just fine if you work carefully.
Sizing
One size fits most. The width is
non-adjustable
and is optimized for mid-blade mounts on wide-clearance steel forks. It is designed for multi-surface riding on rigid bicycle forks. It may also work on some mid-seatstay braze-ons, but will be too wide for most road bike forks and a no-go on rack strut eyelets (the ones toward the top of seatstays). The optimal application is at a 45˚ angle relative to the steerer, as shown in photos. For more on what fork widths will work, read the installation guide linked below.
Have a tall or large-tired bicycle? 29er? Bag from a different maker? Check the dimensions PDF linked below - it has info you'll need to determine if it will work for you. All "Rod Stewards" currently for sale on the site are the standard length, but the maximum dimension they can be made to is also shown in the drawing.
Email me
if you're interested in an XL or a custom width.
Installation
Please read and follow the recommendations in the installation guide. The PDF will also be linked to in your packaging.
Options
Accessories are available separately, such as
light mounts
,
extra crossbars or clips
, or
spacers
.
¡Notes!
1) This product cannot be used without a bag. Never ride your bike with the Rod Steward attached and no bag.
2) Not intended for use with carbon forks.
3) This product is not a rack replacement! It's designed to triangulate the hanging weight of the bag against your fork or frame in order to reduce movement over rough terrain, not to lift its full weight. If you bag does not have enough room to hang from the bars or saddle loops, then this accessory is not designed to work with it. In such a situation you should support the bag with a traditional rack.